AirAsia X, a long-haul subsidiary of AirAsia, a Malaysian-based low-cost airline, has announced its plans to lease six Airbus A330-300s from International Lease Finance Company (ILFC), a US aircraft lessor.
As an international operation of the brand AirAsia, AirAsia X flies to 15 destinations within Oceania and Asia, and has a fleet of 11 aircraft, consisting of Airbus A330-200s, Airbus A330-300s, and Airbus A350-900s. The airline stopped its services to Europe in January 2012 due to high fuel costs, weak travel demand, and high taxes.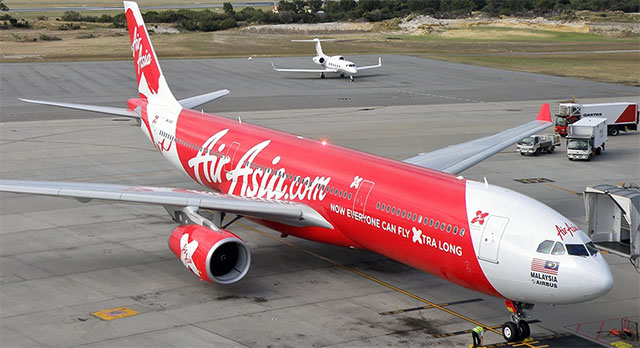 The six Airbus A330-300s on order will be delivered in 2013-14, and will be leased for a 10-year period. The aircraft will be fitted with Rolls-Royce Trent 700 power plants, and will be similar model to the A330-300s the airline already owns – they will be reconfigured to match AirAsia X's existing Airbus A330-300 configuration, which consists of 365 economy seats and 12 premium flatbeds.
Air Asia chief executive, Azran Osman-Rani, said,
"These six aircraft, together with existing delivery orders from Airbus, will see AirAsia X's growth develop, with a total of seven deliveries each in 2013 and 2014, with the aim of being the dominant market leader in the low-cost long-haul segment."
Osman-Rani added,
"Our commitment to have a standardized, young and fuel- efficient fleet optimizes our resources and provides better value. We intend to deploy the additional capacity with a vision to solidify our positions in our identified core markets including Australia, China, Taiwan, Korea, and Japan."
This lease agreement is Air Asia X's first lease agreement with ILFC. Henri Courpron, ILFC Chief Executive Officer, said, "ILFC is pleased to welcome AirAsia X as our new customer in the Asia Pacific region. This new partnership will support the long-haul business of AirAsia X and reinforce the airline's position in low-cost segment of the market."
Tony Fernandes, AirAsia X's Co-founder and Director, also commented,
"AirAsia X's partnership with ILFC will further complement the AirAsia Group's long-term vision of developing its presence in key markets in Asia, and strengthening the connectivity between the AirAsia's short haul and AirAsia X long haul low cost network for the benefit of passengers' convenience. This would hopefully fulfill our pledge – Now Everyone Can Fly further."
AirAsia X, which commenced operations in November 2007, is affiliated with Air Canada and Virgin Group, who are some of its main shareholders.
About AirAsia
AirAsia, AirAsia X's parent company, is the largest low-fare, no-frills airline in Asia. The airline currently operates about 150 routes to 80 destinations. The airline has more than 400 daily flights across Malaysia, Indonesia, Thailand, Australia, New Zealand, Nepal, Myanmar, Cambodia, Vietnam, Taiwan, India, Iran, the Philippines, Singapore, South Korea, and China, among others. AirAsia has several subsidiaries, namely AirAsia Philippines, AirAsia Japan, Indonesia AirAsia and Thai AirAsia.
AirAsia has an all-Airbus fleet. AirAsia' total fleet of 277 aircraft consists of Airbus A320-200s and Airbus A320neos.
About ILFC
ILFC is one of the biggest independent aircraft lessors globally, with a portfolio of more than 1,000 owned or managed aircraft. The company currently has commitments to buy about 300 new, fuel-efficient aircraft. Founded in 1973 by three private entrepreneurs, the company was acquired by insurance company AIG in 1990.
ILFC currently leases Airbus and Boeing aircraft to key airlines worldwide, namely Delta Air Lines, American Airlines, United Airlines, Air Canada, Alaska Airlines, Asiana Airlines, Aeroméxico, Pakistan International Airlines, Air India, Emirates, Cathay Pacific, Korean Air, Lufthansa, Air France-KLM, and others.